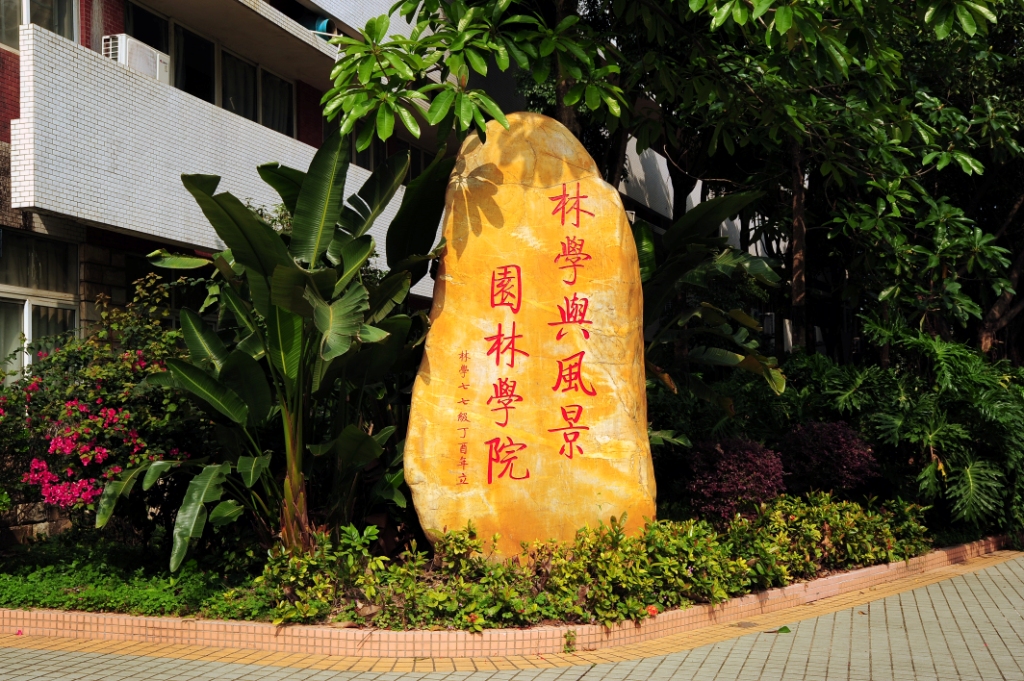 As one of the earliest college of South China Agricultural University, College of Forestry and Landscape Architecture (former Forestry College) enjoys a long history of more than 100 years.

CFLA has 1 primary discipline authorized to confer doctorate degrees (Forestry); 2 disciplines to confer doctorate degrees (Botany, Ecology); 3 disciplines to confer master's degrees (Forestry, Prataculture Science, Landscape Gardening). Our master degree programs covers Silviculture, Forest Genetic Breeding, Forest Management, Forest Conservation, Forest Ecology, Botany, Wildlife Conservation and Utilization, Ornamental Horticulture, Forestry, Landscape Gardening, Prataculture Science, Agronomy and Seed Science. Our undergraduate programs cover 7 majors: Forestry, Landscape Gardening, Gardening, Urban and Rural Planning, Forest Conservation, Tourism Management, Prataculture Science. CFLA is in cooperation with Newcastle University for an internatinal Bachelor-Master Programs on Landscape Gardening. Ding-Ying Class is open for an innovative Forestry.
Prataculture Science, Forestry are the key disciplines of the State Bureau. Forestry (undergraduate) has been authorized by the Ministry of Education as a national key discipline. Gardening(undergraduate) is a Gaungdong provincial key primary discipline. There are 6 provincial key Research Bases, including "National Key Laboratory of Subtropical Agricultural Biological Resources Utilization and Conservation", Key Laboratory of Energy Plant Resources and Utilization of Ministry of Agriculture, Key Laboratory of Forest Plant Germplasm Innovation and Utilization of Guangdong Province, Guangdong Wood Feed Engineering Technology Research Center, Guangdong Agriculture and Forestry Biomass Engineering Technology Research Center and Guangdong Grassland Engineering Technology Research Center.
The number of staff and faculty of CFLA is over 200, including 42 professors, 70 associate professors, 28advisers for Ph.D programs, 77 advisersfor master degree programs (academic), 132 advisersfor master degree programs (professional), 2 winners of National Outstanding Youth Science Fund, 1 National Model Teacher, 1 nominee of Guangdong provincial Thousand-hundred-ten Talent Program,1 provincial Outstanding Teaching Teams,1 winner of University Outstanding Teacher Award. The project, Research and Practice of Co-cultivation of Excellence Agriculture and Forestry Students: Based on the Idea of "Three Standards" (by President Chen Xiaoyang, Professor Li Jiyue,etal.), won the first prize of National Teaching Achievement Award of Higher Education in 2018. The total enrollment of regular students is over 2600, comprising2018 undergraduates, 315 full-time postgraduates, 262 in-service postgraduates and 43 doctoral students.
Since the Twelfth Five-year Plan, our teachers have undertaken 108 national projects, 166 provincial projects and 485 horizontal projects, with a total fund of 224 million RMB. We won 27 provincial awards for the achievements in scientific research, 42 national invention patents, 11 practical model patents and 10 appearance design patents. 1970 papers were published, including 279 SCI papers, 470 CSCD papers and 37 monographs.
In 2018, the employment rate of graduates reached 97.81%, the rate of entering higher education (including going abroad) came to 18.65%. 96.79% of graduates are satisfied with their jobs while the enterprises was 100% satisfied with our students. In recent years, we are 4 times first prize winner of Advanced Employment College for Undergraduates of South China Agricultural University.